PRICE LIST / FULL ACCOUNTING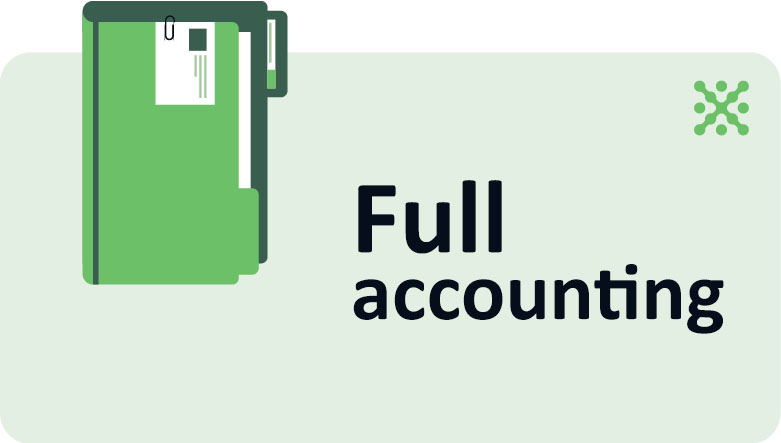 OFFER OF FINANCIAL ACCOUNTING AND HR SERVICES
ERGOTAX SP. Z O.O. ACCOUNTING OFFICE: FULL ACCOUNTING
ACCOUNTING
Full accounting

from 620PLN net
"YOUR ACCOUNTANT" PACKAGE

YOUR ACCOUNTANT
1. Modify site accounting plan and accounting policy to optimize  records due to the specific nature of the business.
2. Keeping books in accordance with the Accounting Act taking into account accounting policy.
3. Supervision of the formal accuracy of accounting documents.
4. Keeping (on the basis of accounting evidence) account books, taking into account the event records in chronological and systematic order.
5. Keeping records of fixed assets,  intangible assets and low-value assets.
6. Keeping settlements.
7. Technical assistance in the field of methodology for the periodic determination or by taking stock of the real assets and liabilities.
8. Monthly reporting of financial result (after month-end) with the calculation of the profitability of sales at several levels of the profits and losses account with synthetic discussion.
9.  Online access to financial and accounting system.
YOUR TAXES
1. Keeping books in compliance with tax regulations.
2. Keeping records for the purposes of VAT accounting.
3. Drawing up and sending of periodic VAT returns.
4. Determine the amount of advance payments due on PIT and CIT income tax.
5.Drawing up and electronic transmission of the annual CIT declaration.
6. Monthly email delivery of the summary required for payment of tax advances on PIT and CIT and National Insurance contributions.
7. The identification (as part of the financial result report) of the tax result on a monthly basis and increasing with a synthetic discussion.
8. Representation before public entities and institutions (Tax Office, Social Insurance Institution).
YOUR REMAINING FINANCIAL AND ACCOUNTING AREAS
1. Archiving of HR & payroll documents.
2. Processing of Customer's confidential data with taking into account the rules of the RODO system.
3. Possibility to provide a substantial support (for an extra charge) in preparing applications for investment or working capital credit in the financial and accounting field.
"YOUR CHIEF ACCOUNTANT" PACKAGE
From the very beginning our accounting office has been providing services not only for accounting and human resources and payroll, but also financial control. Our basic accounting package already includes the necessary control tools – such a policy of action was the foundation of our office. For us, financial accounting is just the beginning – this is because data is created,  which after appropriate processing using management accounting tools gives information for business-critical decisions. We possess wide experience in implementing control systems (including budgeting procedures), including entities, whose reports are audited by certified accountants. In addition, it is important to be able to work with spreadsheets in financial control. Our Chief Accountant and our Control Officer not only have  the expertise of their knowledge but also program in VBA language this allows you to create advanced financial management tools. With a comprehensive team, we don't outsource any of our processes to third parties.
"Your Chief Accountant" package is a "tailor-made" package and may include, among others:
1. allocation of financial result with ratio analysis for each revenue and cost centre,
2. extensive indicator analysis to analyze revenue and cost efficiency compared to year/year month/month,
3. achieved by your company operational, financial and aggregate leverage,
4. weekly liquidity report with cash conversion cycle,
5. budgeting,
6. the hours' package of employee's availability,
7. a monthly meeting with our accounting officer to discuss important accounting and tax matters to associate with their activities,
8. many others, depending on Customer preference; scope of service is defined individually during at least one meeting with the Customer.

With ErgoTax, all accounting, HR and tax matters
are handled in the best way.
Business Office
ErgoTax Sp. z o.o.
Rysia Street 1A
Room 435, IV floor
53-656 Wrocław
Telephone: 71 37 41 616
Branch in Oleśnica:
Wileńska Street 2b/2
56-400 Oleśnica
Telephone 71 307-36-68
NIP: 8961547198
REGON: 363532477