Driving accounting and records of driver's working time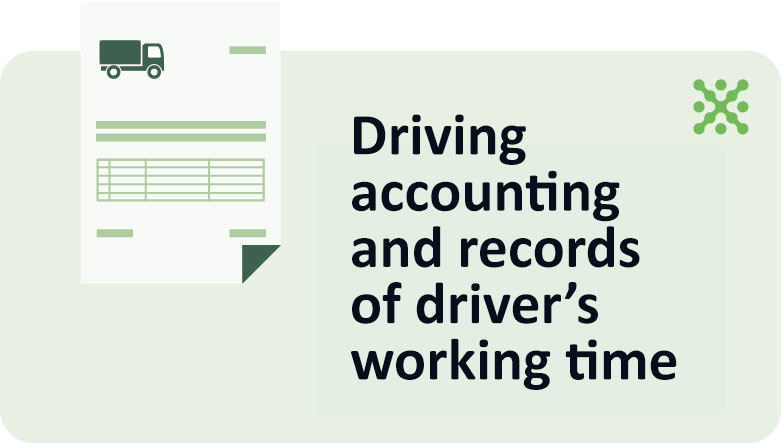 OFFER OF FINANCIAL ACCOUNTING AND HR SERVICES
ERGOTAX SP. Z O.O. ACCOUNTING OFFICE. DRIVING ACCOUNTING AND RECORDS OF DRIVER'S WORKING TIME
RECORDS OF DRIVER'S WORKING TIME
Lp.
Quantity range of employees
The amount of employees in the range
Net unit price for each individual employees in the range (PLN/person/month)
1
For each employee from 1-10 range
10
99
2
For each employee from 11-20 range
10
89
3
For each employee from 21-50 range
30
79
4
Over 50 employees – individual offer
REPRESENTATIVE OF THE CARRIER


IN THE FRENCH REPUBLIC TERRITORY
Lp.
Quantity range of employees
Net unit price for each
individual employees in the range (PLN/person/month)
1
In the case of delegation of between 1 and 5 drivers
50
2
In the case of delegation of between 6 and 10 drivers
48
3
In the case of delegation of between 11 and 25 drivers
34
4
In the case of delegation of between 26 and 50 drivers
25
5
Over 50 employees – individual offer
ANALYSIS OF DRIVER INFRINGEMENTS
1. Complete incomplete activity periods (missing manual entries).
2. Issuing certificates.
3. Full analysis of digital tachograph data.
4. Carrying out analyzes on the basis of regulation 561.
5. Article 25 of the UoCPK working time register.
CONDUCT OF SETTLEMENTS
1. Driver's working time settlement – complete record.
2. Lump sums and advances settlement.
3. Settlement of domestic and foreign delegations (allowances and flat-rate accommodation).
4. Full settlement of minimum wage Milog/Loi Macron etc.
5. A record of working time, including translation required by the inspection services within the territory of the countries subject to the obligation to calculate the minimum wage.

With ErgoTax, all accounting, HR and tax matters
are handled in the best way.
Business Office
ErgoTax Sp. z o.o.
Wrocławska Street 33D Długołęka
55-095 Mirków
Telephone/Fax: 71 33 75 085
Branch in Wrocław:
Rysia Street 1A
Room 251, II floor
53-656 Wrocław
Telephone: 71 37 41 616